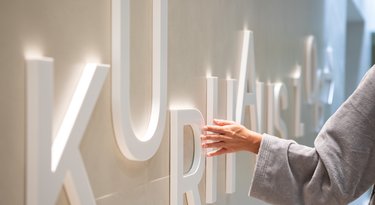 Therapy "Salzburg-style"
Paracelsus Bad & Kurhaus offers customized treatment programs tailored to your needs. Whether for prevention or pain relief – due to its medical expertise in combination with local natural resources mud and salt, Paracelsus Bad & Kurhaus is the ideal address for your health.
How do I set up treatment at Paracelsus Bad & Kurhaus?
Step One:
Your general practitioner or specialist will prescribe the necessary treatment.
Step Two:
In order to avoid unnecessary formalities, we recommend getting your insurance provider to verify your treatments.
Step Three:
Once your insurance provider has approved your application, register for treatment in person at Paracelsus Bad & Kurhaus, where you will quickly be able to begin your treatment program.
The Advantage of Paracelsus Bad & Kurhaus
In order to benefit from our treatments, it is not necessary to receive approval for a full-blown residential treatment program or take time off from work. As an "outpatient" therapy center, therapy guests and patients can work the treatments into their busy schedules. The costs for Salzburg citizens are actually covered by their insurance providers.