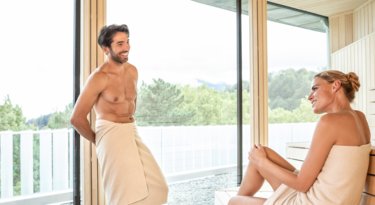 Sauna Facilities
A sauna visit relieves muscle strain and kicks the circulatory system back into high gear. In the sauna facilities of Paracelsus Bad & Kurhaus, an extensive program of sauna infusions takes your sense of well-being to a whole new level. Healthy snacks, a fireside lounge along with the infinity pool on the rooftop terrace further enhance your personal feel-good experience at Paracelsus Bad & Kurhaus. Visitors ages 16 and up enjoy admission to the sauna center. Please note that the sauna floors are nude areas.
What types of sauna does Paracelsus Bad & Kurhaus offer?
Sauna "Fortress View" (occasionally a "ladies only" sauna) - approx 60°C, approx 45% humidity
Herbal sauna - approx 70°C, approx 45% humidity
Sauna "Kurgarten" - approx 90°C
Infusion sauna - approx 90°C
Steam bath - approx 45°C
Infrared cabin
Ladies only sauna
Every Tuesday and Thursday the sauna "Fortress View" - each from 10 - 15 clock - is exclusively for our female guests. Please note that this sauna is a low-temperature sauna (60°C / 45% humidity) without infusion function. Guided infusions take place in the "mixed" infusion sauna according to infusion schedule.
Infrared cabin for dry heat
In addition to saunas, Paracelsus Bad & Kurhaus features a big infrared cabin for up to 6 people. Especially visitors who don't cope well with the hot air of a traditional sauna really appreciate a session spent in the gentler infrared radiation.