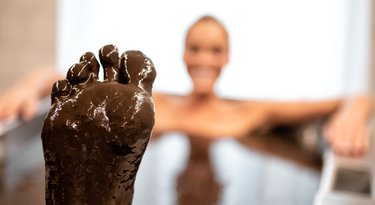 A local healing resource for 200 years
For centuries, people have been using the valuable resources provided by nature in order to maintain and promote their well-being. Mud is actually one of the most effective forms of pain relief without having to resort to medications. At Paracelsus Bad & Kurhaus, a locally sourced mud is used that is considered the best in all of Austria!
Therapeutic muds found in the Salzburg area, primarily from the Leopoldskron district of the city, are considered Europe-wide to be of exceptional quality. This "black gold" is between 12,000 and 15,000 years old, and has been used for therapeutic treatments in Salzburg since 1820. To this day, the peat is dugout freshly on demand and delivered to the Kurhaus by the peat farmers. This earthy mass is then ground up in the "mud kitchen" and blended with water, allowing it to be used later either in mud baths or mud compresses.
The benefits of mud
The countless natural elements contained in mud include humic acid and silicic acid as well as minerals such as magnesium and potassium along with trace elements like iron and copper.
The substances dissolved in the mud relieve pain and detoxify. The heat of a mud bath further intensifies the healing effects. In addition to detoxification and the mobilization of immune responses, an improvement in blood circulation is also induced.
Primary applications of Leopoldskron mud
Complaints affecting the musculoskeletal system (such as joint wear and tear)
Rheumatic diseases
Muscle tension
Skin complaints
Stimulation of metabolism and the immune system
Please note: Clinical mud treatments require a physician's referral. Pregnant women, people with high blood pressure or open wounds as well as those who do not tolerate heat very well are advised to avoid treatments with mud.