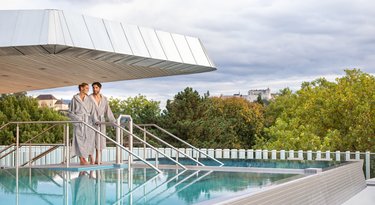 Regeneration with views of the historic district
At the modern Paracelsus Bad & Kurhaus, visitors discover a harmonious interplay of tranquility and openness. After a session in the sauna, either unwind inside glass-walled quiet rooms or treat yourself to healthy delicacies in the sauna restaurant. The ticket to the sauna also includes access to the infinity pool on the rooftop with breathtaking views of the historic district and mountain landscapes.
Sauna etiquette
The sauna including the infinity pool at Paracelsus Bad & Kurhaus are nude areas. For healthy, considerate interaction and appropriate use of the facilities, we ask you to follow these simple rules:
Spread a towel out underneath the entire length of your body.
Avoid sweating directly on the wood.
Do not enter the sauna wearing shoes.
Shower immediately before and after each sauna session.
If you are feeling unwell or queasy, leave the sauna immediately.
Drink plenty of fluids.
Allow yourself to cool down after your sauna session.